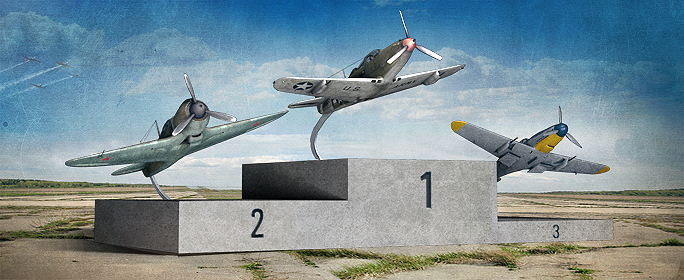 Pilots!
Every profession, which involves risk taking and certain amount of luck, always has its 'protector' or a lucky charm in a form of a totemic animal or a special symbol, full of special significance and a deep inner sense.
Sport teams have long been employing mascots to make them recognizable and bring about victories. Mascots also help to stress the team spirit and underline the team character: St. Louis has its Ram, and look how tenacious they are!
No wonder that since the beginning of aeronautics pilots have always decorated their warplanes: painting them in special colors, adding an insignia, drawing stars. It has been done so to demonstrate Air Force's elite status amongst other Army units, but also to make pilots and whole air squadrons more recognizable – feared by enemies and respected by allies. And of course mascots, especially during WWII, were especially significant to airmen. Take for instance the famed Black Sheep squadron. Man, they were fierce!
The World of Warplanes Community Team invites you to participate in the Warplanes Mascot Contest. Design your very own mascot for World of Warplanes and get a chance to win a Global Alpha Test access. Authors of the best and most creative works will become World of Warplanes Global Alpha test-pilots instantly.
We accept your graphics of any quality. You do not have to be a professional designer or artist. You will be judged only on your creativity, creative ideas and the following criteria:
All works have to be submitted in the special contest forum thread
All images have to be either in .jpeg or .png file format
All images should have a resolution no larger than 1280x800 dpi
The deadline is 12:00 UTC on Friday, May 11. Curious what time it is in your region? Use this handy Time Zone Converter to help you out.
Good luck and off you go!