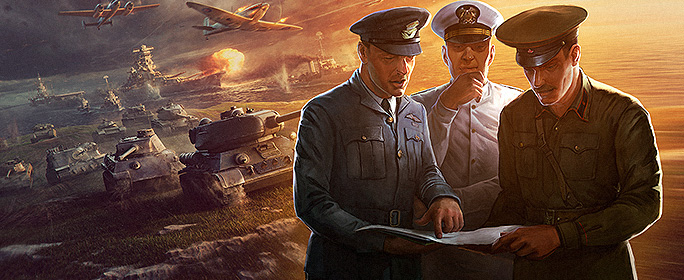 Pilots,
Everything is more fun together – wouldn't you agree? Sure, busting enemy tanks in a platoon is cool, and stringing together a series of victories in a flight can be exhilarating. However, wouldn't it be cooler if you could have these experiences on a larger scale with an even greater sense of cohesion?
That's where Clans come in. World of Tanks has already had them for a while. Now, the highly-anticipated feature has made it to World of Warplanes as well – in a bigger and better fashion than you might have imagined! Instead of just allowing for the grouping up of players within one game, we're proud to announce the Common Clans System, allowing pilots and tankers to play together in one Clan across all Wargaming titles.
Advantages of Playing in a Clan


Same Name and Clan Tag

The name of your Clan is shared across all Wargaming titles. That way, people will recognize you and your Clan wherever you go.

Same Group of Players

Your band of brothers is not to be broken. Have your Clan brethren by your side regardless of what Wargaming title you play.

Common Clan Funds

The Gold that you earn as a Clan will be available in all other games as well as where your Clan is represented.
How to Proceed
If you're already a member of a World of Tanks Clan, from now on you'll be able to play World of Warplanes from within this same group. Just log in as usual and access your Clan's private chat from whichever game you prefer to play. Every Clan will now also have its dedicated Clan profile page available on the World of Warplanes website, allowing the Commander the usual familiar management options.
If you don't have a Clan yet, you can now head over to the forums or check out the Recruitment Station to join an existing squad or you can even create your own Clan on the Common Clans portal! You will then receive the ability to chat with your Clanmates in-game, use all Clan-related management options and get access to the shared Clan treasury.
---
Learn everything there is to know about Common Clans and what further advantages and conditions being a Clan member comes with on our newly launched Common Clans page!
---