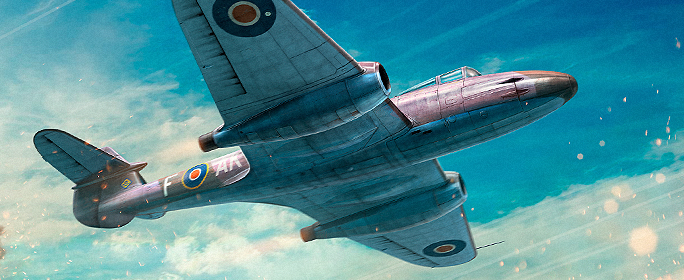 Pilots,
For the month of August, we've got a special group of extended Missions that reward the bold. The skilled pilots who can brave these missions will be rewarded with various goods and, ultimately, by completing all the missions by month's end, the jet-powered British Meteor I will be yours! Keep your eyes on the prize!
Start Time:

Friday, August 1, 04:00 PDT / 07:00 EDT


End Time:

Monday, September 1, 04:00 PDT / 07:00 EDT
Mission / Objectives

Rewards

Written in the Stars

Win 250 battles where you place in your team's top 10 XP earners.

Once per account
Tier IV or higher

4 Days of Premium

A Streak Across the Sky

Complete all four (4) Meteor Madness missions and the Written in the Stars mission.
---
Meteor Madness Week 1
Start Time: Friday, August 1, 04:00 PDT / 07:00 EDT
End Time: Friday, August 8, 03:59 PDT / 06:59 EDT
Mission / Objective

Rewards

Star Crossed

Destroy 150 enemy aircraft.

First Aid Kits ( 5 )

Automatic Fire Extinguisher ( 5 )
---
Meteor Madness Week 2
Start Time: Friday, August 8, 04:00 PDT / 07:00 EDT
End Time: Friday, August 15, 03:59 PDT / 06:59 EDT
Mission / Objective

Rewards

Meteor Strike

Destroy 300 enemy ground targets.

First Aid Kits ( 5 )

Automatic Fire Extinguisher ( 5 )
---
Meteor Madness Week 3
Start Time: Friday, August 15, 04:00 PDT / 07:00 EDT
End Time: Friday, August 22, 03:59 PDT / 06:59 EDT
Mission / Objective

Rewards

Shooting Stars

Earn 30,000 XP (Premium time bonus and other XP multipliers not included towards progress. Only base XP counts).

First Aid Kits ( 5 )

Automatic Fire Extinguisher ( 5 )
Meteor Madness Week 4
Start Time:

Friday, August 22, 04:00 PDT / 07:00 EDT


End Time:

Friday, August 29, 04:00 PDT / 07:00 EDT
Mission / Objective

Rewards

Shining Bright

Place in your team's top 3 XP earners 20 times.

First Aid Kits ( 5 )

Automatic Fire Extinguisher ( 5 )
---