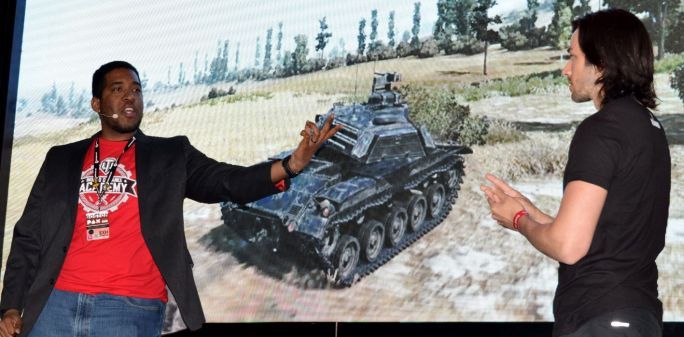 Military Appreciation Month is an important month for us here at Wargaming. We want to spotlight those employees that served in the military and celebrate them throughout the month of May. Today's spotlight is on Stan Hazlip, AKA Pigeon_of_War, Assistant Producer for World of Tanks.
---
When did you join the military, and which branch did you join?
I joined on December 2, 2002, serving in the Army Reserve for six years and the Air Force Reserve for one year.
Where did you go?
For the Army, lots of places. Besides some training camps like Atterbury, Fort Irwin, and Fort Bragg, I also went to a couple of places outside the country. One of them was Panama, in 2005, for a demobilization mission. The others were, of course, my main combat deployments in Ramadi and Fallujah.
What was your assignment?
In the Army I was a 91B, Combat Medic. They eventually changed the designation to 68W, but the job was the same. The task is in the name: to make sure my soldiers are physically and mentally well so they can continue training for combat operations. I went on over 200 combat missions with my platoon for Route Clearance missions looking for IEDs on the side of the road.
What were some of your most memorable experiences?
There was one time during training that I was able to do a successful intravenous stick with an 18-gauge needle in the dark, while upside-down, in the back of an HMMWV, with a flashlight in my mouth. It was a test of extreme-conditions medical training.
Another one would be when we found an actual 120mm round on the side of the road and assumed it was a bomb. Our Navy EOD Team (Explosive Ordinance Disposal) dismounted from their Cougar MRAP (which is all but bomb-proof) in nothing but their uniform, weapon, and vest, and kicked it. Seriously, kicked it! They said they knew it wasn't a bomb because of their training (no visible wires, land was too flat to spot a detention man, no pressure plate indicators, etc.), but the amount of courage that took is beyond me.
Were you awarded any medals or citations?
Army Achievement Award, Global War on Terrorism Medal, National Service Defense, Army Unit Commendation, and a few others.
What did you do in your downtime?
I went to the gym, played a lot of video games, and watched a ton of movies. I also read the entire Hitchhikers Guide to the Galaxy series (five books at the time).
What's your job at Wargaming, and has your military experience helped?
I'm the Assistant Producer for World of Tanks. My military experience translates in ways that may not seem immediate, but are relevant. I was taught to stay calm in the face of adversity, to trust in the abilities of my colleagues, and never take anything that isn't life threatening too seriously. That last one is the most important.
You can find Stan in-game as Pigeon_of_War!