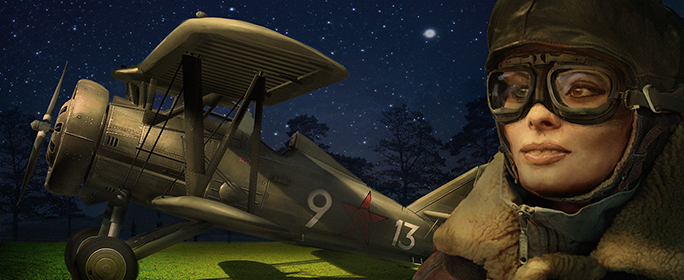 Pilots!
As part of our Women's Appreciation Month events and charity campaign, we present this history piece on the great Russian female pilots, the Night Witches. Enjoy!
We simply couldn't grasp that the Soviet airmen that caused us the greatest trouble were in fact women. These women feared nothing, they came night after night in their very slow biplanes, and for some periods, they wouldn't give us any sleep at all."1
- Luftwaffe Captain Hauptmann Johannes Steinhoff
---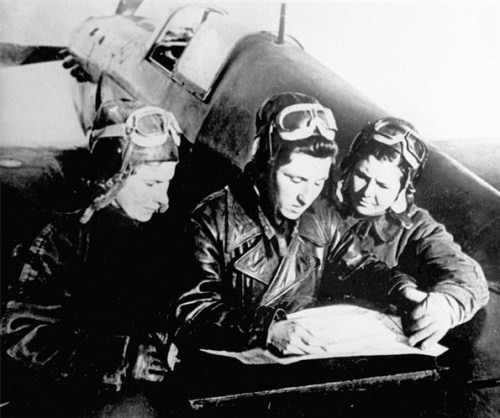 Flying aces Liliya Litvyak, Katya Budanova, and Mariya Kuznetsova1
The German Blitzkrieg into Russia, known as Operation Barbarossa, commenced on June 22, 1941. It devastated a Russian military caught in a disorganized and unready state, and by November, the German Army had made huge territorial gains, taking millions of prisoners and pushing through fierce resistance to the outskirts of Moscow itself.
In many countries during the World War II, including the United States, Britain, and Germany, women were welcomed into air services as transport and logistical support. This included operating radar outposts, coordinating fighter interception of bombers, and ferrying aircraft from the factories to other bases, but they were not welcomed into active combat roles.
However, for Russia, it was quite a different story. The Night Witches were the first of many to take up arms and fly as successfully as their male counterparts. Russia was desperate for planes and the pilots to fly them, determined to stop the German advance by any means necessary.
In Russia's most desperate hour, a famous aviatrix named Marina Raskova offered a solution. Known as "The Russian Amelia Earhart," Raskova was a courageous aviation pioneer in her own right. Given her accomplishments, it might also be accurate to describe Earhart as the "American Marina Raskova."
In 1938, Raskova and two other women flew an aircraft named "Rodina" (Motherland) on a 6,000-kilometer flight across the expanse of the Soviet Union. With the wings icing up and the crew jettisoning everything they could, it was still not enough. Raskova jumped out of her navigator's position and parachuted to the ground, surviving for 10 days in harsh conditions while she searched for her crew.
All three survived and went on to earn the first "Hero of the Soviet Union" medals awarded to women. They would not be the last.
Now a well-known figure in Russia, Marina Raskova leveraged her accomplishments and a personal connection with Soviet leadership to have the military form three female combat units: the 586th Fighter Aviation regiment, the 125th Guards Bomber Aviation Regiment, and finally the 46th Taman Guards Night Bomber Aviation Regiment.
Although these female pilots were not immediately welcomed by their brothers in arms, they soon proved themselves worthy of respect. The women in the 46th Night Bomber Regiment flew the Po-2 biplane, a slow, outdated and flimsy craft used for crop-dusting and training flights. It was made primarily of wood and canvas, very vulnerable to any kind of fire, and could only carry a light load of bombs.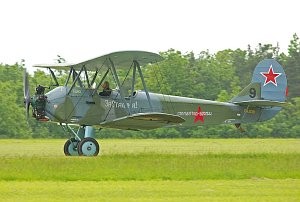 Andreas Kauert "Po-2"2
The women were undaunted, and used the biplane's slow speed to their advantage. The Po-2's maximum speed was in fact lower than the ME-109's stall speed, and they were able to out-turn and out-think the enemy even if spotted by more modern aircraft.
The 46th operated primarily at nighttime, out of small airfields only 15 minutes away from the front lines, with the pilots flying numerous sorties overnight and braving adverse conditions in planes with open cockpits. They searched for German encampments from low altitudes, opting for a dangerous yet effective tactic of idling their engines as they approached the bomb release point, appearing to strike from nowhere.
That said, perhaps the best testimonial to their courage was given to them by their enemies; with no warning other than the sound of the wind passing through their wings and around their aircraft, terrified German soldiers likened it to the sound of broomsticks, dubbing the pilots Nachthexen, or "Night Witches."
The Night Witches flew sorties each night until their aircraft ran out of fuel from numerous flights, with planes often returning shot-up and damaged, with pilots wounded or killed, with Raskova herself perishing in the line of duty. In the daytime, the aircraft were repaired and refueled for the next night.
The 46th flew constantly, keeping the enemy scared, sleepless and on the defensive constantly, both at the front line and behind it at great risk to themselves. Flying over 30,000 missions and dropping over 23,000 tons of bombs, they earned 24 "Hero of the Soviet Union" awards. These women fought to prove themselves as valuable as the male regiments, and that they did.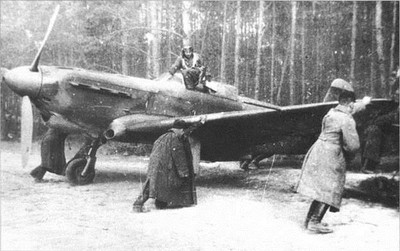 Yak-1 Fighter3
March is Women's Appreciation Month. All month long, we recognize the achievements of exceptional women throughout history. We are hosting a charity drive with Grace After Fire, a great women's veterans organization. Not only will we be supporting this charity by having all donations go directly to it, but we'll also match your donations dollar-for-dollar!
---
Literary Sources
1 Sakaida, Henry. Heroines of the Soviet Union 1941-45. Oxford: Osprey, 2003. Print. p. 18
Photo Credits
1 "Night Witches" . 1940. Night Witches – Soviet women pilots. http://beautifulrus.com/night-witches-soviet-women-pilots/ 24 Feb. 2014
2 Andreas Kauert "Po-2" Polikarpow / Polikarpov Po-2 / U-2 http://www.flugzeuginfo.net/acdata_php/acdata_po2_en.php 24 Feb. 2014
3 "Yak-1" http://world-war-2.wikia.com/wiki/Yakovlev_Yak-1 24 Feb. 2014