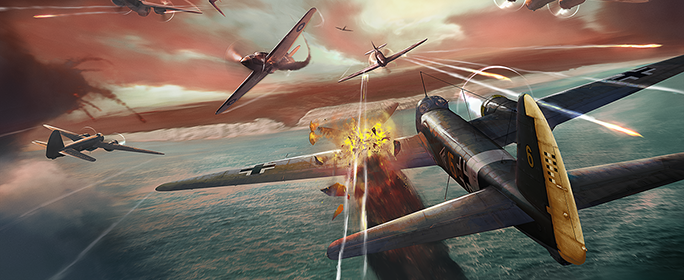 Update 2.0.2 brings holiday changes along with six new aircraft, two new maps, a special Hangar, and a new "Albion Sky" event!
Highlights of World of Warplanes Update 2.0.2
Albion Sky
Introduced with Update 2.0.2, a special in-game event is available for pilots to play from December 20 until January 10. Stay tuned to the main portal for more information in a dedicated article very soon!
New Aircraft
We're introducing six new aircraft with the update, obtainable through participation in the Sky of Albion event from December 20:
Dornier Do 17 Z (German tier IV bomber)
Junkers Ju 88 A (German tier V bomber)
Dornier Do 217 M (German tier VI bomber)
Hawker Hurricane I (British tier IV British multirole fighter)
Hawker Hurricane II (British tier V British multirole fighter)
Hawker Tornado (British tier VI British multirole fighter)
New Maps
Check out two glorious new vistas to explore and dominate after Update 2.0.2 releases:
Secret Santa
Have you been naughty or nice? Regardless, from December 20 until January 10 you'll be able to sample World of Warplanes' spin on Secret Santa, a time-honored tradition of exchanging mysterious presents with friends, family, colleagues, and in this case, fellow pilots! True to the spirit of the tradition, you'll be able to buy Santa bundles for your friends or yourself and revel in the festive goodies within.
Keep an eye on the site for more info!
New Hangar
Log in after Update 2.0.2 to enjoy a special new Hangar inspired by the Battle of Britain!
Other Changes
Introducing embedded video tutorials to ease newcomers into World of Warplanes
Some tech tree changes
Some "gift" Premium planes will become standard Premium planes, and vice versa
Check out the full notes for a list of all the Update 2.0.2 changes.