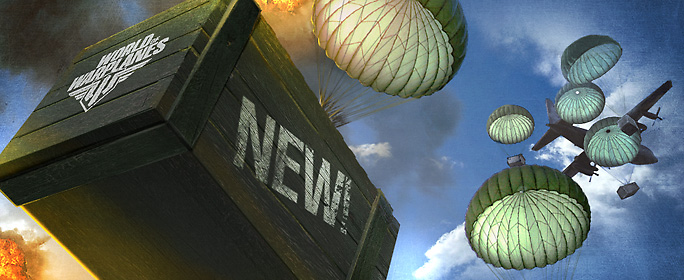 Pilots!
0.5.2 Update has official dropped and has introduced our Unified Premium account as well as making adjustments for a number of aircraft. For a complete list of changes, see the update notes below and get airborne!

---
0.5.2 Update Notes
Unified Premium Account
Unified Premium account (between World of Warplanes and World of Tanks) is implemented, enabling the future sharing of Premium time across Wargaming's PC games
A Premium account can be purchased in the World of Tanks client for in-game Gold and in the World of Warplanes client for Tokens.The benefits of a Premium account purchased in one game will be applied to both games
Economy

Tokens earned by a player during the first stage of Open Beta will be converted into Credits:
All Tokens earned before the moment of the 0.5.2 update will be converted into Credits at the exchange rate 1:800.
During the period between 0.5.2 launch and until the full game release, all items available for purchase with Tokens enjoy a 50% discount, except for Premium account time! This event applies to the following:
Prices for Premium planes in Tokens are adjusted. New Token prices for Premium planes are listed below:
Changed Token reward system for battles. Players will now be able to get the Token reward every day by satisfying the following conditions:
| | | | |
| --- | --- | --- | --- |
| Winning Battles | Shooting Down an Enemy | Destroying Ground Target | Reward |
| 1st | 1st | 1st | 10 Tokens |
| 3rd | 3rd | 3rd | 20 Tokens |
| 10th | 10th | 10th | 50 Tokens |
Reduced prices for some ammunition belts:
M2 machine guns: 150 / 300 / 300/ 1200 credits
MG-53-2 price for the top belt 350 / 700 / 700 / 2000 credits
М2-20: 800 / 1600 / 1600 / 2400 / 2400 credits
B-20: 1000 / 2000 / 2000 / 3200 / 3200 credits
NS-23: 1400 / 2800 / 2800 / 4000 /4000 credits
MG-213C: 2100 / 4200 / 4200 / 7200 / 7200 credits
Increased earning rates for some planes:
FL-1
HE-100
P40-m-105
P-39q
A7M
Heads-up Display
Implemented a new style of combat messages similar to World of Tanks
Balance

Reduced aircraft and weapons characteristics on the following planes:
F7U - increased dispersion, increased overheating
F6U - increased dispersion, increased overheating
109TL - reduced maneuverability
Me.609 - reduced maneuverability
P51H - reduced maneuverability
Improved aircraft and weapons characteristics on the following planes:
Bf.110E - increased accuracy for MGFF-M gun
J7W2 - increased maneuverability
J7W3 - increased maneuverability, increased gun accuracy, reduced overheating
La-15 - increased speed, maneuverability, reduced overheating
F86A - increased maneuverability
Il-40P - increased cruising speed and HP points, increased gun damage characteristics
Me. P. 1092 - reduced overheating
La-160 - increased maneuverability
F5U - increased maneuverability, slightly-reduced MAX roll rate
Me.209A - reduced some guns' overheating rate, increased accuracy for MK-103
La-9 - slightly increased maneuverability
Bf.109G - increased MAX speed
P-40 - increased HP
I-16 late - increased HP, increased dispersion for synchronized machine guns, reduced overheating for ShVAK cannons
A5M - increased accuracy for Type 97 machine guns, increased damage rate for Type-2 machine guns
Ar80 - increased accuracy for hub-mounted cannon
Fixes

Fixed a bug with a twitching lead-firing-point indicator
Fixed a bug causing a sharp increase in aircraft responsiveness when you hover the sight on an enemy plane