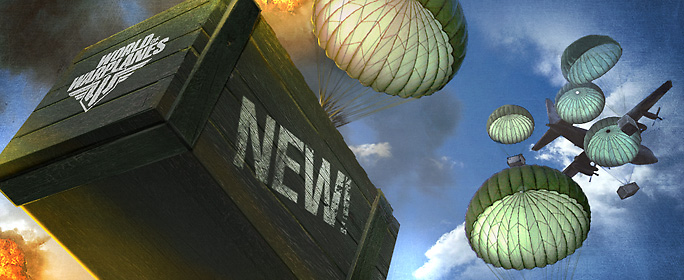 Pilots!
---
New Aircraft

Update 2.1.23 introduces a brand-new reward aircraft:
This aircraft is a tribute to one of World War II's last surviving combat pilots—the USAF Colonel Joseph Anthony Peterburs. He has flown 49 missions over Europe since 1944, piloting his trusty Mustang named after his beloved fiancée Josephine. On April 10, 1945, Joe was escorting a huge bomber raid toward Berlin when a Messerschmitt Me 262 swooped down on the B-17s, wreaking havoc on the formation and destroying four aircraft. Having an altitude advantage over the "Swallow," Joe dove at his target and opened fire with his machine guns, riddling the wing and engine with bullets. The Me 262 disengaged and withdrew inside cloud cover, and its pilot, famed German flying ace Walther Schuck, bailed out. Over half a century later, during Schuck's visit to the United States in 2005, Joe Peterburs had the opportunity to meet and befriend his former enemy, discussing the details of that short but fateful encounter. They remained close friends until Walther Schuck's passing in 2015.
To earn this warplane, you'll need to participate in the upcoming game event.
---
New Achievements

Added a new achievement that can be earned in the upcoming game event.
---
Balance Changes

Modified several parameters of the Reggiane Re.2005 Saggitario:
Fixed the value of engine mass.
Modified the dynamic curve of acceleration in non-optimal ranges toward its increase.
Increased overall acceleration dynamic both with and without boost.
Slightly increased maximum speed.
Decreased the dispersion of wing-mounted cannon fire.
---
Bug Fixes

The Wargaming 25 emblem is now displayed properly on the SNCAC NC 1070.
The model of the Heinkel He 111 H-2 is now displayed properly in the Hangar.
For legal reasons, the manufacturer's name from Bell aircraft has been removed.