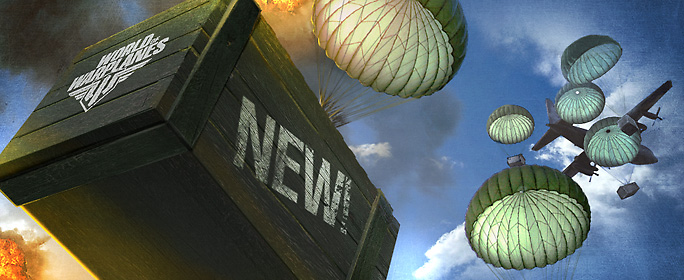 Pilots!
Attrition Game Mode

Attrition is a game mode for dogfighting fans! The goal of a team is to deprive the enemy of resources by destroying their aircraft. Each destroyed aircraft deprives the enemy of one resource. By capturing sectors, players can increase the value of each enemy aircraft destroyed. Two sectors under the team's control double the number of resources lost by the enemy, three sectors—triple, and so on.
The number of reserve aircraft per team is limited only by their resources. Aircraft respawn in groups of several recently destroyed teammates. A team that depletes enemy resources first wins a battle.
Player Rating
Earning Personal Score for effective actions in battles conducted in Attrition game mode while flying Tier IV+ aircraft will place players in a special rating.
Based on the position in rating the players can be placed into one of four leagues and rewarded accordingly for their active participation in the event.
First League — places 1-10 will be rewarded with a unique female pilot with 5 skill points and

1,000

.
Second League —

places

11-250

will be rewarded with a regular pilot with 3 skill points and

350

.

Third League —

places

251-1000

will be rewarded with

100,000

and

200

.

Fourth League — places

1001-2500

will be rewarded with

100,000

credits.
Rewards for the first weekend will include USA pilots, for the second one — USSR pilots and for the third weekend — German ones. In case a First League player has the unique pilot that is a reward for the specific weekend they will receive a regular pilot from the same nation with 5 skill points.

The rating will be formed weekly based on the results of the weekend, and cleared before the next weekend. The rewards will be sent out the next day after the weekend ends.