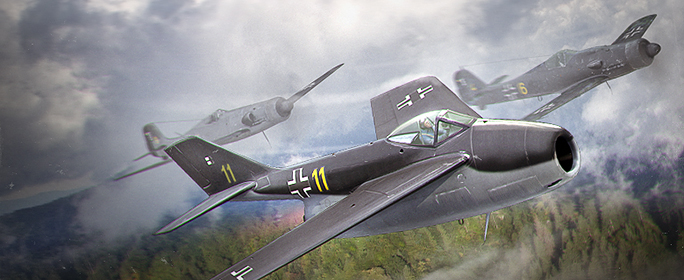 Pilots!
After a successful release of World of Warplanes in November, we are ready to distribute our first post-release update, 1.1. And though the release was a big milestone, this update is not just a simple suite of bugfixes -- we have lots of new content and gameplay changes that are well worth checking out. For a look at most everything included in update 1.1, read on!
---
New German Planes
The German line is getting the Focke-Wulf branch of fighters in version 1.1. Focke-Wulf manufactured many aircraft for Germany during the war, and here is your chance to try out some of them in the game. The full list consists of:
Heinkel He. 51 (tier II)
Focke-Wulf Fw. 159 (tier III)
Heinkel He. 112 (tier IV)
Focke-Wulf Fw. 190V (tier V)
Focke-Wulf Fw. 190A-5 (tier VI)
Focke-Wulf Fw. 190D (tier VII)
Focke-Wulf Ta. 152 (tier VIII)
Focke-Wulf Ta. 183 (tier IX)
Focke-Wulf Fw. 252 (tier X)
New Maps
Version 1.1 adds two new locations: Fortress (for tier II-VII) and Adriatic (for tier V-X). In addition, the Harbor, El Halluf, Pacific, Bay and Eastern Front maps all have added animated war scenes going on around their landscapes.
We showed you more on the new maps in a previous article, so be sure to read that as well!
Settings Changes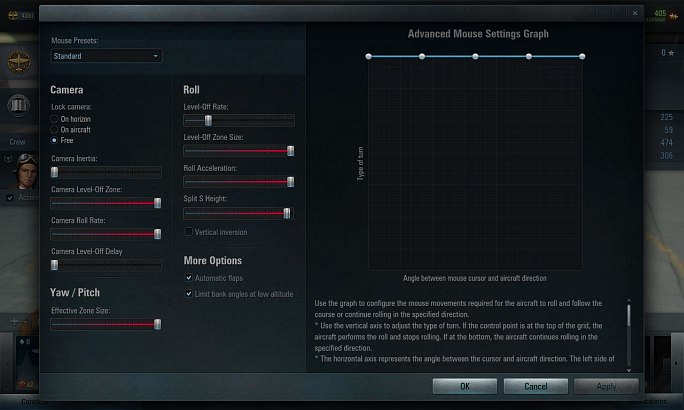 In 1.1, you will see some changes to the mouse control algorithm, a reworked settings screen, and new options to customize your settings.
Mouse control
Simplified pitch: Now you can easily pitch up from all camera positions and altitudes. This keeps you from colliding with vertical surfaces when watching your back.
Improved ground collision warnings: This now has less impact on the behavior of a plane in combat at any altitude. On the other hand, if you are confident in your skill, you can disable "ground collision control" and uncheck "Limit bank at low altitudes
Reworked settings menu
Now all settings are divided into groups. It will be easier to understand when any settings changes are applied
New features to change the camera behavior were added
A new "Free" setting preset was added. Camera settings for this mouse control preset make it easier to control your plane when following an enemy.
The default state of the camera inertia slider was changed. Our reasoning is that we have all the camera filters removed to speed up the data flow to the server -- hard camera binding could result in picture instability. Camera inertia minimizes lag and maintains picture stability, which, in turn, improves the orientation in a dogfight. For those who got used to the former hard binding, just move the "Camera inertia" slider all the way to the right.
Renders: Fw. 190D
Tech Trees
| USSR | Germany | USA | Great Britain | Japan |
| --- | --- | --- | --- | --- |
| | | | | |
Update Notes
The complete list of additions and changes can be found on our Updates page for 1.1.
---