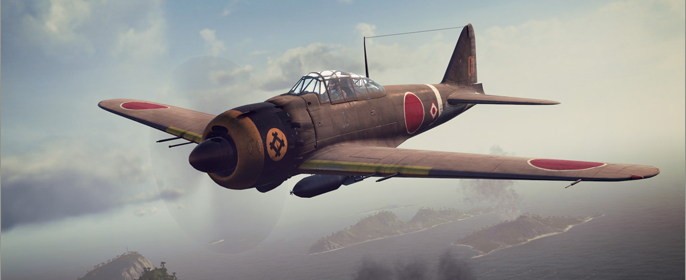 Aces!
The Warplanes Parade wraps up this week with our final fighter spotlight, Japan's tier VI A6M5 Reisen!
History
In the initial years of the Pacific War, Mitsubishi's A6M "Zero," which derives its name from its designation "Rei-shiki Kanjou Sentouki," or "Type Zero Carrier Fighter," was unparalleled in combat against both carrier-based and land-based fighters. The Reisen's long combat range, high speed, and exceptional maneuverability made it an incredibly effective dogfighter.
Developed in 1943 to counter high-performance US fighters, the A6M5 variant was a refined version of the A6M3. The A6M5's wingspan was shortened to 11 meters with rounded wingtips to increase its diving speed. It was powered by the Nakajima "Sakae" Type 21 engine with a new exhaust system in the cowling; the A6M5 was capable of reaching a top speed of 565 km/h.
The A6M5 typically sported two 20 mm Type 99 cannons in the wings, and two 7.7 mm Type 97 machine guns above the frontal fuselage however multiple sub-variants with different armament configurations were produced (Some even had an added 20mm cannon obliquely positioned in the cockpit behind the pilot). The A6M5 was the major production version of the Zero until the end of the war.
In-Game Performance
Like all Japanese fighters, the A6M5 features high maneuverability and good firepower but also boasts the lowest hitpoints of its tier. The A6M5 excels as a dogfighter but try to avoid head-to-head engagements! Use your mobility to out-turn enemy planes and get into a good position to use both your heavy machineguns and 20mm cannons!
Contests
Efficient Destruction
Although it would later be outclassed by superior Allied fighters, the Zero was initially unmatched with a 12-to-1 destruction ratio. How many planes can you succesfully destroy this week piloting the A6M5? The player with the most destructions between Monday, August 4 and Friday, August 8, 23:59 PDT will win 2,000!
Over 10,000!
A total of 10,449 A6Ms were produced during World War II. You're going to have to get at least that number of XP if you want to become the top XP earner in the A6M5 this week! The player with the most XP earned from Monday, August 4 to Friday, August 8, 23:59 PDT will also win 2,000!
Creative Contest: Origami Planes
Fold your way to victory and Gold in our forum creative contest, Origami Planes!
---