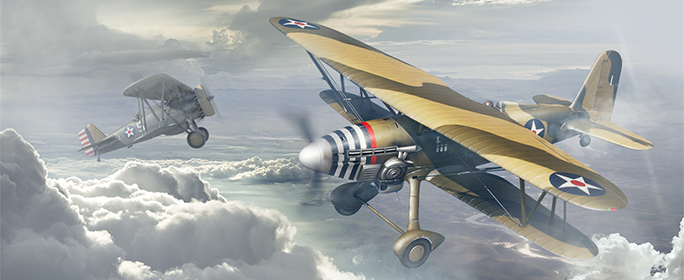 OFFICE MEMORANDUM NO. 6 - August 1, 1907

An Aeronautical Division of this office is hereby established, to take effect this date. This division will have charge of all matters pertaining to military ballooning, air machines, and all kindred subjects. All data on hand will be carefully classified and plans perfected for future tests and experiments. --James Allen, Brig Gen, Chief Signal Officer of the Army
The creation of the Aeronautical Division, U.S. Signal Corps led to the creation of aviation schools, a rating system to determine pilot skills, and eventually the first military aircraft. In short, the Aeronautical Division was the forerunner of the United States Air Force.
Enjoy Credit discounts on several U.S. aircraft, a x2 Crew boost and Premium bundles featuring your favorite American Premiums.
Start Time:

Friday, August 1, 04:00 PDT ( 07:00 EDT / 11:00 UTC )


End Time:

Monday, August 4, 04:00 PDT ( 07:00 EDT / 11:00 UTC )
Bonuses & Discounts

Every Battle


x2 Crew Experience




Premium Aircraft
50% Off (Gold):

Premium Aircraft
30% Off (Gold):

Regular U.S. Aircraft




Tier II - V:

50% Off

Regular U.S. Aircraft




Tier VI - VII:

30% Off
---
Missions
Mission / Objective

Rewards

American Pride

Win a battle and place in your team's top 10 XP earners.

Does not stack with the first win of the day multiplier.
Limit five (5) times per account
U.S. aircraft only

x2 Experience

Signal Corps I

Win a battle.

Tier III or higher
Once per day
U.S. aircraft only

Pneumatic Restarter

Signal Corps II

Win five (5) battles.

Tier III or higher
Once per day
U.S. aircraft only

First Aid Kit ( 3 )

Signal Corps III

Win 10 battles.

Tier III or higher

Once per day

U.S. aircraft only

Automatic Fire Extinguisher ( 5 )

Follow the Signal

Destroy 100 enemy aircraft.

Tier III or higher

Once per day

U.S. aircraft only

Improved Reflector Sight
---
Premium Shop
The Name

The Goods

$22.69

XF4F-3

XF4U-1

XP-50

Hangar Slots ( 3 )

+ Free:

3 Days of Premium
---