Update 2.0 is live with bombers, respawns and a new game mode. Get a jump on the action and earn three of the new machines through daily in-game combat missions found in the Hangar.
Starts: October 12, 07:00 PT (10:00 ET)
Ends: November 3, 01:00 PT (04:00 ET)
Act fast before the Nov. 3 end date -- afterward, the bombers enter the tech tree as Premium aircraft available for Gold.
Daily combat missions will reward you with loot crates that contain components of the new bombers when opened:
• Bristol Blenheim Mk. IV (early mod.) - British, tier IV
• Douglas A-26B Invader - US, tier VI
• Myasishchev RB-17 - Soviet, tier VIII



Bristol Blenheim Mk. IV (early mod.), British Tier III Bomber
High speed at high altitude makes this bomber a nightmare for most fighters to intercept. The rear gunner has 7.7mm machine gun able to cover anyone rude enough to attack from above or behind.
Beware enemies attacking from below -- you won't be able to hit them with your rear gunner, so you should either maintain an altitude that keeps you out of range or maneuver them into your rear gunner's firing arc.
Four 250 pound bombs with a short reload time let you destroy any ground targets with ease!

Douglas A-26B Invader, American Tier VI Bomber
The A-26B mounts a turret with surprisingly powerful twin .50-cal (12.7mm) machine guns, which cover your back and have a long range. This lets you repel attacks and even destroy more fragile or damaged enemies at a distance.
Six frontal machine guns can also inflict considerable damage to any foes foolish enough to get in your way, especially ones who aren't fast enough to escape your firing range.
This beauty drops bombs weighing 1,600 pounds in groups of four, which lets you cover a significant area while causing massive, concentrated damage to your targets.

Myasishchev RB-17, Soviet Tier VIII Bomber
This high-flying fast mover brings an impressive payload to the party -- while each bomb may only weigh 100kg, you drop six with each attack, covering a large area and compensating each bomb's small size.
Your defensive turret covers the tail with a mighty 23mm cannon, able to cause high damage in a hurry at long range. It may not cover the largest area, but swaps that for range and rapid fire to repel pursuing fighters. If gunnery is a no-go, you can always retreat to higher altitudes.
Conditions
Daily missions in one tier, get 1 loot crate
Daily mission in all required tiers, get 3 loot crates
Three daily missions in all required tiers, get 9 loot crates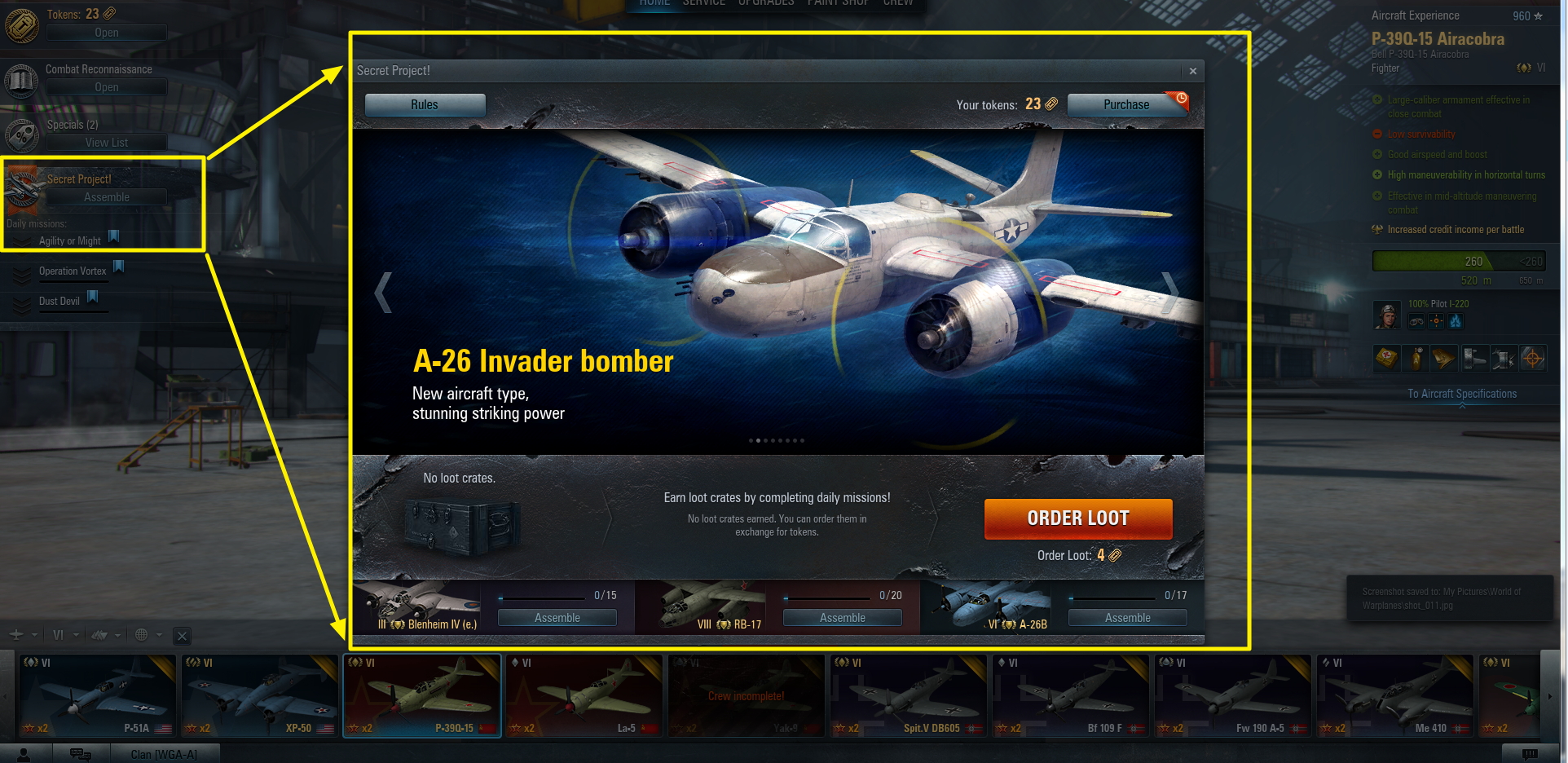 Other rewards remain the same -- Credits, XP, special consumables, and as a final reward, Tokens.
Finish the missions, open the crates and collect bomber parts to build your new air armada!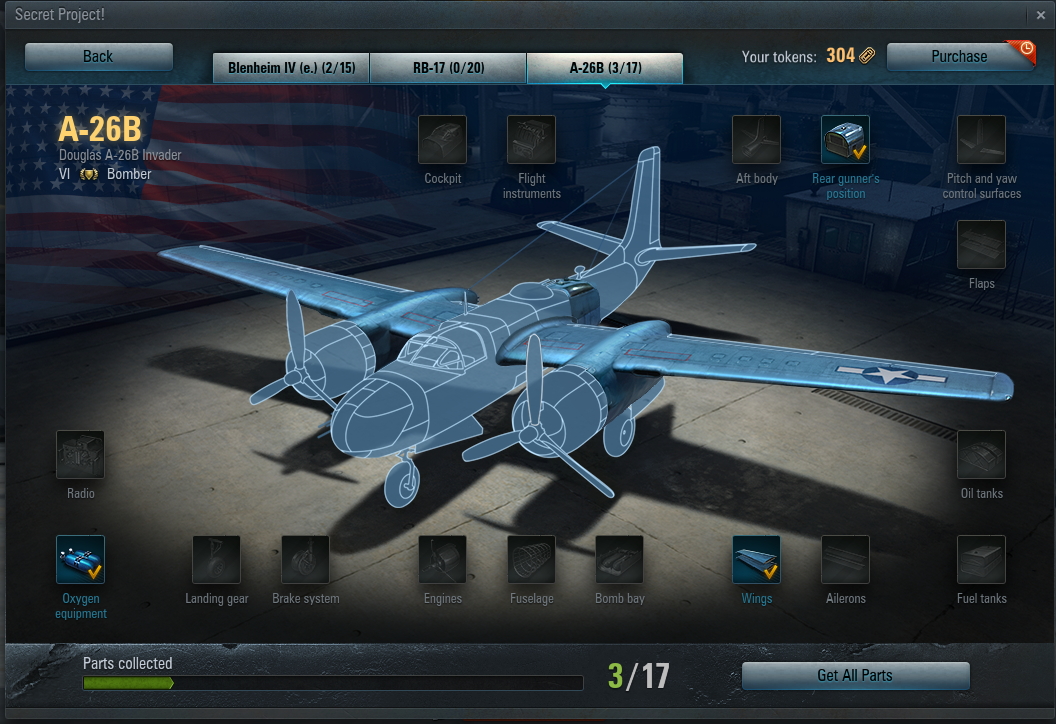 If you can't wait, pick up the bomber parts you don't have, or more loot crates, in-game for Gold.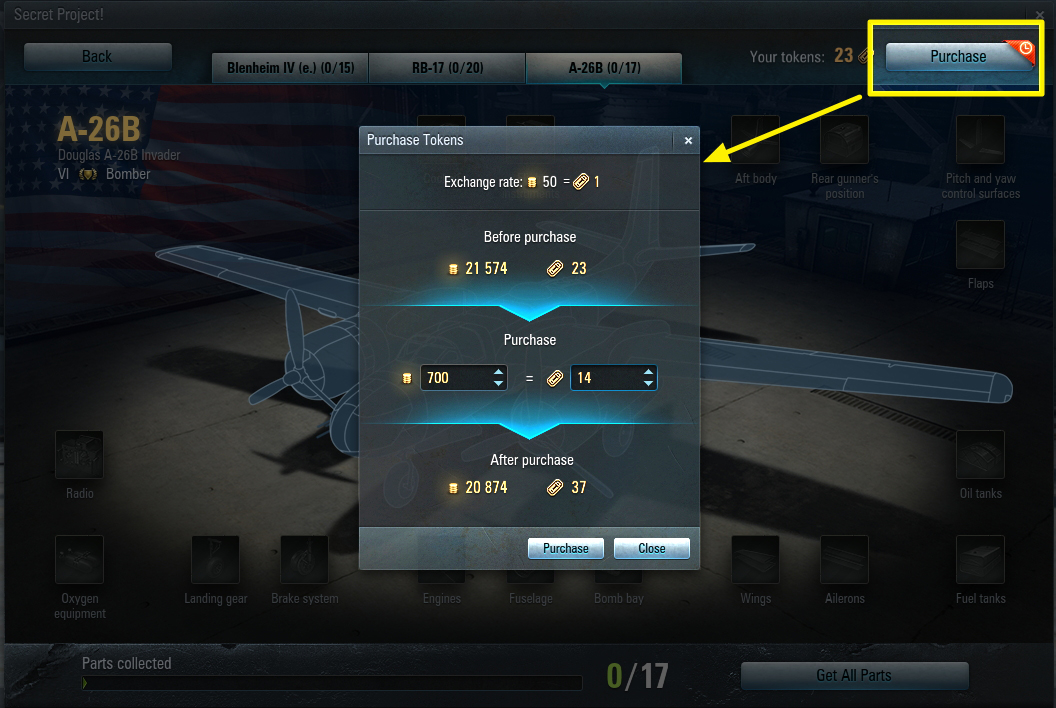 It gets even better, as the crates contain even more possible prizes:
Gold
Experienced Pilots
Modifiers for Crew XP
Modifiers for XP and Credits
Free XP
Credits
Tokens
Equipment
Emblems (available for all aircraft in the Hangar at the time of earning them)
Camouflage (available for all aircraft in the Hangar at the time of earning them)
Hangar slots
Consumables
Special consumables
Days of Premium Account time
Barracks slots in the barracks