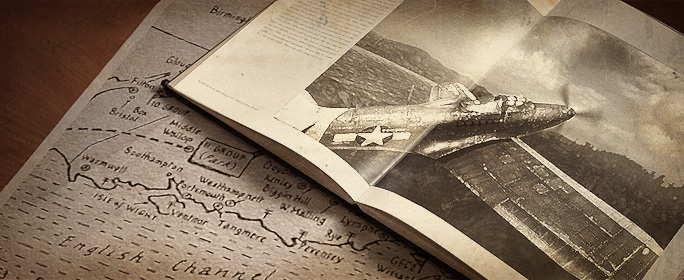 In honor of Black History Month, we thought it would be fitting to take a look back at the historical accomplishments of the Tuskegee Airmen, the first African-American military aviators in the United States armed forces. This notable group of combat aviators was comprised of pilots, navigators, bombardiers, and instructors who helped pave the way for breaking down the walls of segregation after World War II.
Their popular nickname "Red Tails" came from the painting scheme of their aircraft, in which the tails, wingtips, and propeller were colored a crimson red making them easily discernible in the sky. They were also commonly known as "Red Tail Angels," a nickname given to them by bomber pilots whom the Airmen frequently escorted into enemy territory.
P-51D Mustang Specifications (P-51C Pictured)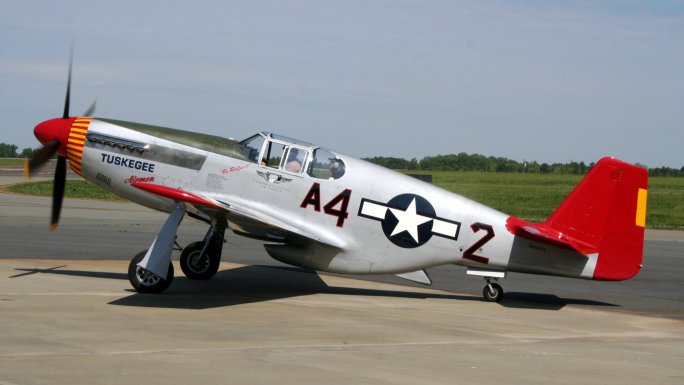 Powerplant: 1 × Packard V-1650-7 liquid-cooled supercharged V-12, 1,490 hp (1,111 kW) at 3,000 rpm;[83] 1,720 hp (1,282 kW) at WEP

Maximum speed: 437 mph (703 km/h) at 25,000 ft (7,600 m)

Cruise speed: 362 mph (580 km/h)

Range: 1,650 mi (2,755 km) with external tanks

Service ceiling: 41,900 ft (12,800 m)

6× 0.50 caliber (12.7mm) M2 Browning machine guns with 1,880 total rounds (400 rounds for each on the inner pair, and 270 rounds for each of the outer two pair)

2× hardpoints for up to 2,000 lb (907 kg) of bombs

6 or 10× T64 5.0 in (127 mm) H.V.A.R rockets (P-51D-25, P-51K-10 on)[nb 8]
While the famous squadron is mostly associated with the equally famous P-51 Mustang, they in fact flew a variety of different aircraft types during the war like the Curtriss P-40 Warhawk, Bell P-39 Airacobra, and the P-47 Thunderbolt.
Making History
But before the Airmen would enter the annals of aviation history, it took the work of civil rights leaders like Walter Francis White, A. Phillip Randolph, and Judge William H. Hastie that would eventually lead to pressure Congress to pass the Appropriations Bill Public Law 18 on April 3rd, 1939. This bill included an amendment that would designate funds for training African-American pilots.
Later, in 1941, the War Department and the Army Corps formed the 99th Pursuit Squadron, the first all-black flying unit. The Tuskegee program official began in June of 1941 at the Tuskegee Institute and was comprised of 47 officers and 429 enlisted men.
After years of training, not to mention further social obstacles, the 99th was deemed ready for combat in April of 1943 and deployed to the European theater of war, renaming itself the 99th Fighter Squadron. An additional all-black squadron was formed later in the war in 1944, known as the 332nd Fighter Group.
Merits & Accomlishments
By the end of the war, nearly 1,000 Tuskegee pilots had been trained with 450 being deployed overseas. They participated in 1,378 combat missions, 179 bomber escort missions, destroyed 112 enemy aircraft, and even managed to put a destroyer out of action.
They were also awarded with three Distinguished Unit Citations (two for the 99th, one for the 332nd). In addition they were awarded a Silver Star, 96 Distinguished Flying Crosses, 14 Bronze Stars, 744 Air Medals, and eight Purple Hearts.
Legacy & Further Information
The herorics of the Tuskegee Airmen has been well document in novels, films, television, as well as being honored in the Red Tail Project which maintains and flies a restored P-51C Mustang (pictured right) that's used to garner interest in the accomplishments of the Tuskegee Airmen.
Such films like the recently released Red Tails, while entertaining in their own right, is not recognized as being a hisorical account of the Tuskegee Airmen. Whereas HBO's 1995 film The Tuskegee Airmen is much more historically focused on the accomplishments of the 99th Pursuit Squadron and the 332nd Fighter Group.
Sources & Further Reading
Wikipedia. "Tuskegee Airmen." Accessed February 5, 2013. http://en.wikipedia.org/wiki/Tuskegee_Airmen
Wikipedia. "Red Tail Squadron." Accessed February 6, 2013. http://en.wikipedia.org/wiki/Red_Tail_Project
Wikipedia. "North American P-51 Mustang." Accessed February 7, 2013. http://en.wikipedia.org/wiki/North_American_P-51_Mustang
Wikipedia. "Red Tails." Accessed February 7, 2013. http://en.wikipedia.org/wiki/Red_Tails
The Red Tail Squadron | Honoring the Tuskee Airmen. Accessed February 5, 2013. http://www.redtail.org/
The Official Web Site of the U.S. Air Force. "Tuskegee Airmen." Accessed February 5, 2013. http://www.af.mil/news/story.asp?storyID=123016224